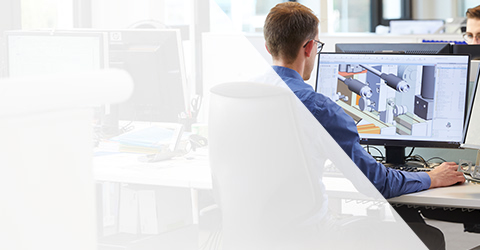 Industrialization
and Manufacturing
Industrializing your product
The industrialization of complex life science and diagnostic systems not only require architectural and functional development, production and testability must also be integrated.
Intensive alignment between development and production guarantees reliable and cost-optimized instruments and consumables after launch.This is important for series production of high-quality reliable products.
The synergy between production process requirements and functional needs, including modularization and testing, takes place in the industrialization phase. Here the groundwork is laid for the transition from prototype and pilot production to series production.
Prototype
Production process planning
In this early production design stage, it is crucial to listen carefully to customer requirements and translate them into a full-scale working model.
Production-friendly processes are applied from the beginning to ensure that prototypes are right first time, and according to deadlines, thus guaranteeing optimal product cost and quality during the industrialization phase.
Transfer to Manufacturing
Production process and QC method development Pilot series System verification
Implementation of representative manufacturing methods and production processes from the beginning is key to reliable and efficient industrialization of your product.
We develop efficient and effective quality control methods to test your product and ensure a continuous level of quality that meets the highest standards.
System Validation
0-series Clinical validation QC methods and validation process
Validation and verification are gatekeeping processes that ensure a customized product meets the intended use, user needs and requirements.
Our team of experienced engineers and scientists provides tailormade verification and validation solutions for your life science or diagnostic product. Our expertise includes risk management and regulatory compliance to avoid surprises during product launch.
Market Launch
Regulatory compliance and submission Production ramp-up
Whether your diagnostic product is intended for research use only or if you are planning to launch a class III medical device, we are here to support you with your product submission, efficient and compliant with all relevant regulatory standards and regulations.
The interdisciplinary HSE∙AG team has extensive experience in launching life science and diagnostics products and ramping-up production. We offer you the best industrialization solution, whether you need low-volume/high-mix or fully automated manufacturing of large volumes, locally or globally.